Callstream brings live call payment security to the cloud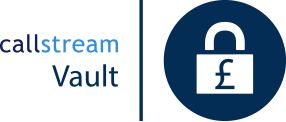 Providing customers with the peace of mind for secure telephone payments no longer means investing in expensive hardware equipment, thanks to Callstream, the call management experts.
With the launch of the new Callstream Vault, customers can now access the highest level of telephone payment security, PCI Level 1, within the 'live' contact centre environment through the cloud.
Callstream Vault allows customers to make payments over the phone without sharing their credit card information with the contact centre agent.  Instead, credit card and security code details are entered via the customer's phone keypad. Keypad tones are muted so all card details are kept completely hidden
Meanwhile, the agent retains contact with the customer throughout the call and Callstream's Vault PCI compliance therefore does not compromise the customer experience.  If the customer makes a mistake typing the numbers or requires help, the agent can guide them to re-enter their details.
For any company taking payments over the phone, compliance with the Payment Card Industry Data Security Standard (PCI DSS) is a must in order to avoid heavy fines.  PCI Level 1 is the 'go to' gold standard to reaffirm a company's reputation and provide the highest security level for customer reassurance.
Organisations operating in industries regulated by the FCA, face the additional challenge as they are required to record all calls, yet PCI compliance demands that credit card details are not recorded.
Callstream Vault solves this dilemma and companies get the assurance that they are achieving the highest levels of PCI Compliance, while meeting the FCA's stringent requirements.  A higher level of PCI Compliance results in reduced costs for handling credit card transactions and therefore save money when complying with PCI Level 1.
"Callstream Vault customers can be confident that they're keeping credit card information safe and secure, without having to make their customers use an automated payment system", said Mick Crosthwaite, CEO of Callstream. "And because it's completely cloud-based, they get a flexible, secure solution that can grow as they need it to, with no additional equipment costs."
Callstream Vault integrates with existing payment gateways and CRM systems.